Chad Duell is a television personality from General Hospital. He developed his career on the back of shows such as The Suite Life on Deck and A Friend's Obsession.
More than a decade ago, his acting chops were justified after being nominated for a Daytime Emmy for Outstanding Young Actor. Examining his personal life, we found that he has a well-documented love life. 
You will meet Chad Duell's girlfriend soon enough but first, take a look at his net worth from his career. How important is his work in General Hospital play out in his income and salary?
Chad Duell in General Hospital.
Duell came to acquire the role of Michael Corinthos in General Hospital in 2010. Prior to this, his role was portrayed by multiple actors; this includes the likes of Drew Garrett. However, Chad Duell has taken on the role of Michael since he first signed on more than a decade ago.
As such, he has racked on an impressive 1,100 episodes on the series. On the show, Michael's relation to Sonny Corinthos meant that he was always in harm's way, eventually leading to his coma.
https://www.instagram.com/p/B5X6Tj-hEa-/
Since Duell signed on, Michael's storyline has become much more interesting. He has gone from a juvenile trying to appease his father to a man capable of making smart actions. Over the years, he'd become an important part of the series, garnering praise from critiques and fans alike.
Net Worth & Salary.
Chad dropped out of high school to pursue a career in acting. He got his debut in 2008, appearing simultaneously in two series in Disney. Duell first worked on two episodes of 'The Suite Life on Deck' and then in 'Wizards of Waverly Place.'
2009 marked the first time Chad seriously considered transitioning to Day time Drama. He auditioned for the role of Michael the very same year. However, his predecessor, Drew Garrett, was selected.
Undeterred, Chad vied for a different role in General Hospital. It was for a new character that the show was introducing (the love interest of Kristina Davis. Upon seeing Duell's audition tape for the role, the producers knew he would better fit Michael's role.
Duell also became part of the digital drama series 'The Bay' in 2017. This was during the show's third season, as Adam Kenway was introduced. Furthermore, he was also in a recent episode of CW's Arrow.
Altogether, Chad Duell's net worth as of 2021 is $600,000. Sources say that his salary from General Hospital is around $1,000 to $2,000 per episode.
Chad Duell Married Life & Divorce.
Chad Duell got to enjoy a pretty good married life, but it ended with divorce. We are, of course, talking about Duell's marriage to longtime girlfriend, Taylor Novack.
The two first met after Chad's mother set them up. According to Duell, she kept on pestering him about how great Taylor was. After about two weeks of hearing high praises, he finally agreed to see Taylor just to get his mother off his back.
However, when he did meet her, he instantly fell for her. After dating Taylor for around 9 months, Duell took their relationship to the next step by proposing to her. He chose one of his most favorite locations, 'The Disney World' in Orlando, Florida, for the special occasion on August 26, 2011.
Here is how he planned the surprise to pop the question according to Duell; "I told Taylor that room service was delivering a very special breakfast and surprised her with the ring and a flower on a plate."
So, it was a real surprise to hear that before 2012 was even over, the couple were already calling it quits. On this, Chad did not have too much to say. 
""It was just too soon. I think we weren't ready." But he also adds that "It is the best thing for both of us."
His Dating Life After.
Chad Duell began dating his co-star, Kristen Alderson, shortly after his marriage was over. Alderson plays the role of Kiki Jerome on General Hospital. The two were regularly seen together back in 2015. Multiple news outlets snapped pictures of them going on a vacation to Hawaii.
They even attended the 2015 Emmys together. However, their relationship came to a halt in October 2015. According to Chad, he just wasn't in the right place for a long-term commitment.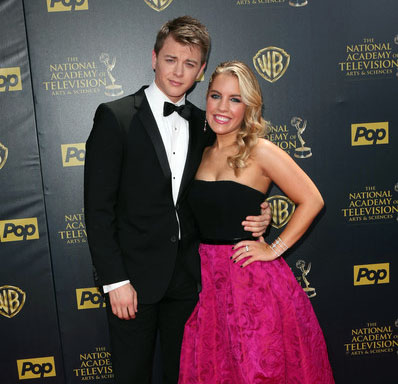 Who is His Girlfriend?
Presently, Chad is dating fellow soap actress Courtney Hope. The romance with his new girlfriend began in early 2016 when the two met at a party. It was their mutual friend and Chad's GH co-star, Bryan Craig, who got them talking. 
"I wanted to hang out with her but part of me knew I would end up dating her. I guess I was scared"; Chad admitted. Interestingly, Courtney Hope had an entirely different perspective. 

"My parents always used to tell me love should be easy and with someone who's your best friend. Growing up, I didn't believe that existed anymore. When I met Chad, it was the first time I ever saw what they were talking about." she said.
They even were in Quarantine Together.
About 1 year into their relationship, Chad and Courtney moved in together. This means that they also got to live together throughout the quarantine period. Both admitted that they still were a little unsure and anxious going into it but were comfortable in a short time.
"I felt like there were stages of quarantine – in the beginning, we both had a little anxiety over it, then set an at-home routine so we could be productive. It's just us and our three dogs. We like our alone time, too – he likes to play his games, and I like fitness and crafts." The Bold & The Beautiful actress said.

https://www.instagram.com/p/CFHyt5eA26R/
How Old is Chad Duell? Chad Duell's Age & Bio.
Chad Duell was born on September 14, 1987, in Illinois. It makes him around 33 years old as of 2021. He was born in Illinois, but he grew up in Arizona. It meant that he could attend Mountainside Middle school and then the Desert Mountain High School in Scottsdale.
Other than that, Chad was a football player and theatre major back in high school. Eventually, he'd drop out of school to pursue an acting career in LA.
Switching to his measurements, we found that Chad's height is 6 feet or 1.83 meters, and his weight is 76 kg or 168 lbs.