Soap operas like General Hospital will always have a sizeable cast, but some will always be more distinguishable than others. It is mostly the original and long-term cast members like Kirsten Storms that gain most fans. Kirsten does deserve all the love and fame for all the hard work and effort that she has put into the role of Maxie Jones, a role she has loyally been portraying since early 2005.
Learn more about her career to find out Kirsten Storms' net worth. Also, please find out about her married life and children. Is she dating anyone? Is she pregnant? What is the reason behind her weight gain? Answers to all your questions are just a few lines away below.
Kirsten Storms as Maxie Jones Married Life & Children with Husband
Kirsten Storms was a married woman, but her marriage and divorce were so quick that many people were unaware of it. Not us General Hospital fans, though, as her husband was none other than her former GH co-star, Brandon Barash. Barash was the actor behind the role of John Zacchara from 2007 to 2016. John Zacchara did not cross paths with Maxie Jones in the series, but it seems their real-life personas did find each other attractive.
No wonder not many people out there remember them ever being a thing. The two were dating secretly. People only knew about them in early 2013 after they finally revealed their dating life to the public. Now that we look back into it, they may have only gone public with it because they would have to reveal it sooner or later since, in August 2013, they would reveal two more surprising details about their relationship.
Firstly, they tell us that they were secretly married and that too, months before in June of 2013. Furthermore, they reveal that they have one more good news: Kirsten Storms was pregnant with a baby girl due January 2014.
Sure enough, the couple would welcome their first and only daughter; Harper Rose Barsh was born on January 7, 2014. She is already seven years old as of 2021 and will soon be turning eight at the beginning of 2021. Kirsten's daughter, the Harper, loves to dance and is currently taking ballerina classes.
Reason Behind Kirsten Storms' Divorce
After that, the couple went back to keeping their marriage quite secretive, so we got no details of it until they had another big news for the public in 2016. This time around, however, it was not good news the couple was sharing. As of April 6, Kirsten Storms announced that she was filing for a divorce with her husband, Brandon Barash, 36, citing the vague reason as irreconcilable differences behind it.
"We are splitting due to the cliché irreconcilable differences, but we're splitting amicably," Brandon Barash statement to Soap Opera Digestread. "We have every intention of remaining a family through this and successfully co-parenting our kid and retaining a friendship in the efforts of raising her in a healthy environment."
Kirsten would later give add further details to her husband's statement saying,
"This was not a hasty decision; a lot of thought and therapy went into this. We went to therapy for a long time, trying to figure out how to communicate better with each other. It's not anything that we dislike about each other."
It seems like their marriage was of a lifespan to us outsiders, but it looks like the couple was trying very hard to keep it intact for as long as they could, even taking hard precautions like therapy. Regardless, they could not make their marriage last.
Despite going through a divorce, it looks like the divorce was a mutual decision that was for the best. The couple proves that they meant their word of being good co-parents to their daughter.
They are good friends even after their divorce, which is a very rare incident. They spend a lot of quality time with their daughter. Her ex-husband, Brandon, even came over during the covid lockdown. He gave a haircut to their daughter, and Kirsten was so impressed that she even allowed him to cut her own hair. He was surprisingly a good barber and gave his ex-wife a 'Flinstone hairdo.'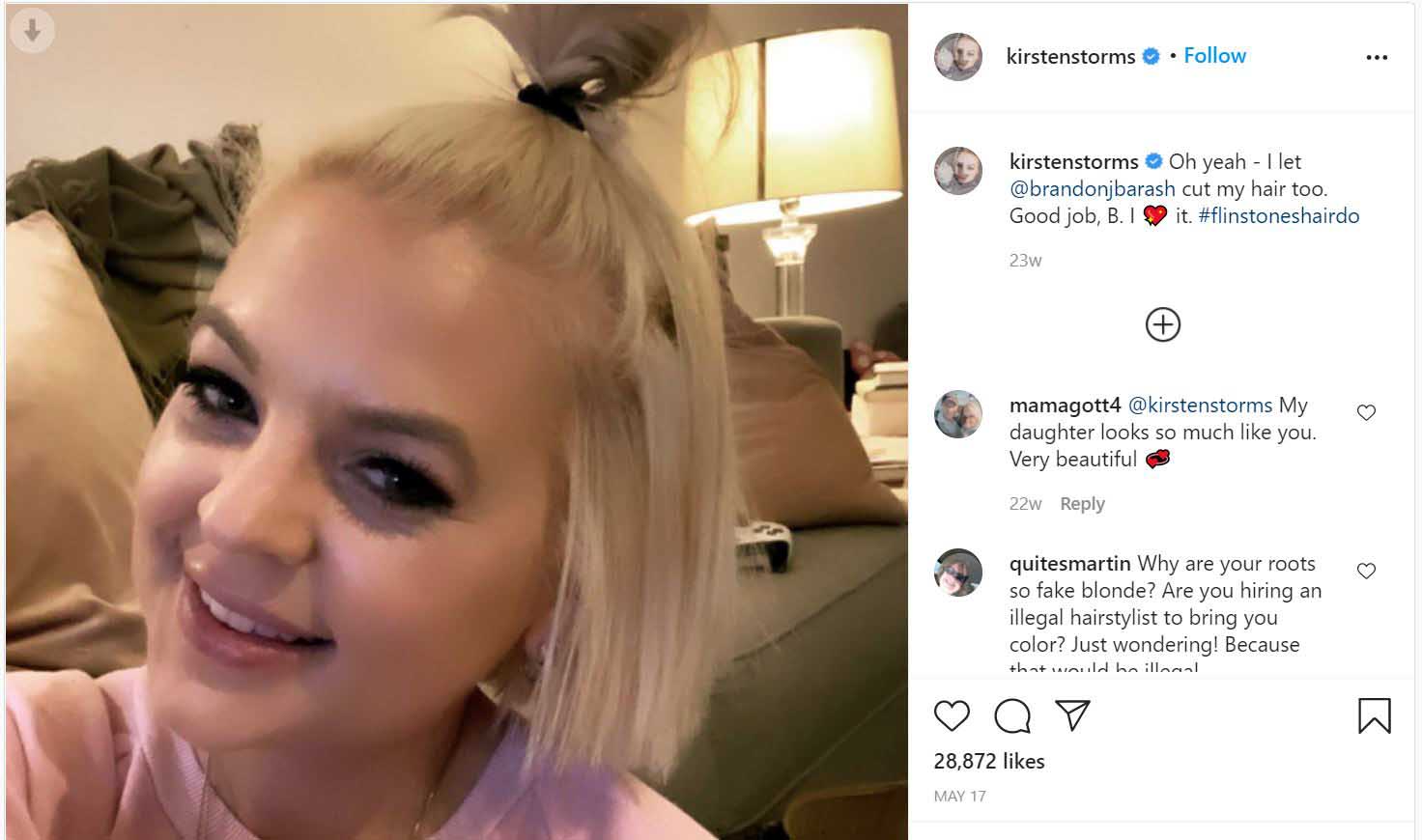 Kirsten also was sure to wish Brandon during Father's Day for being an excellent father to their daughter with the following post;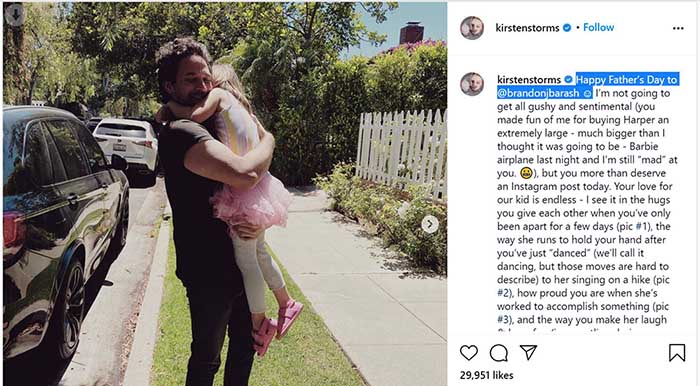 Is Kirsten Storms Pregnant? Her Dating Life
Lets us not go in circles and answer you directly in this case. Kirsten Storms is not pregnant. So, how does such a rumor even come out in the first place? Well, celebrities have all kinds of rumors around them. The misunderstanding was perhaps due to her character, Maxie Jones was also pregnant around the same time back in 2018.
Kirsten Storm's Dating Life After Divorce
It may also have to be her current dating life, which is in full bloom. Yes, Kirsten Storms is dating again, and her boyfriend is Elias Paul Reidy, the musician.
Her new boyfriend was formerly a band member of 'The Red Jumpsuit Apparatus' and is currently part of the rock duo, 'The Souls Shakers.' Kirsten first met Elias back in 2006, and they began dating shortly after, which is why you can find a lot of photos of the couple attending events from back then, including the 2007 Emmys.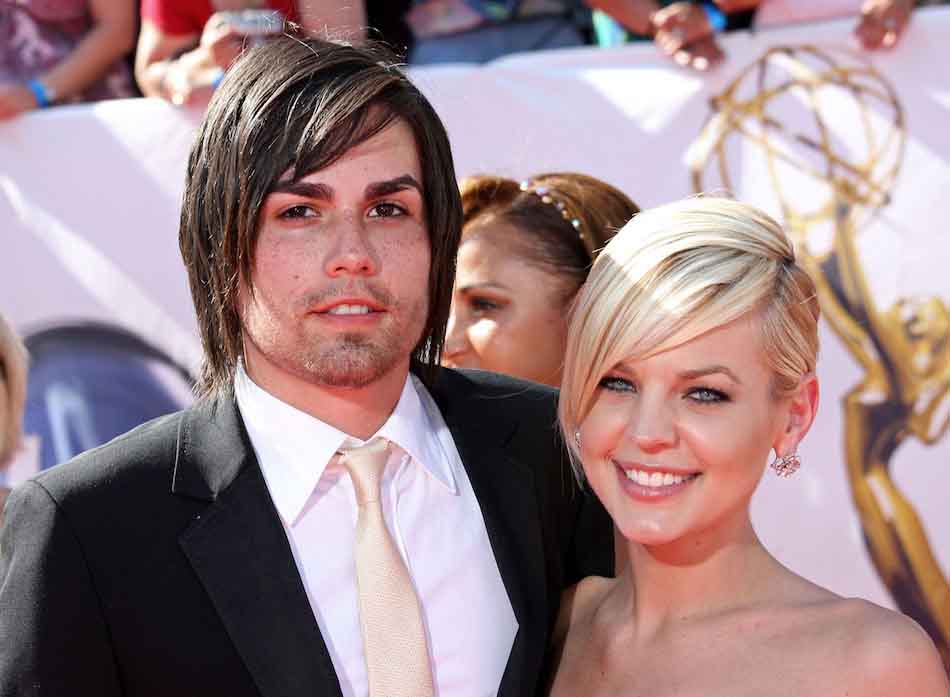 However, they would realize after four years together that their relationship wasn't meant to be. So, they went their separate ways, and as you know, Kirsten met, married, and divorced Brandon Barash. It looks like the pair rekindled their romance as we found out they have been dating again since at least early 2018.
In an Instagram post, she wrote;
"I'm a big girl and can take care of myself but this guy has my back like no other. He has since we met 12 years ago. Our first relationship lasted four years. Eight years later, the universe decided it was time to put us back together. I don't think I'll ever lose this feeling of gratefulness for him. I dig it."
The couple has been inseparable since. They often hang out together. She goes to his performance while her boyfriend, Elias, follows her everywhere, from nail salons to her gym to spend as much time as he can with her.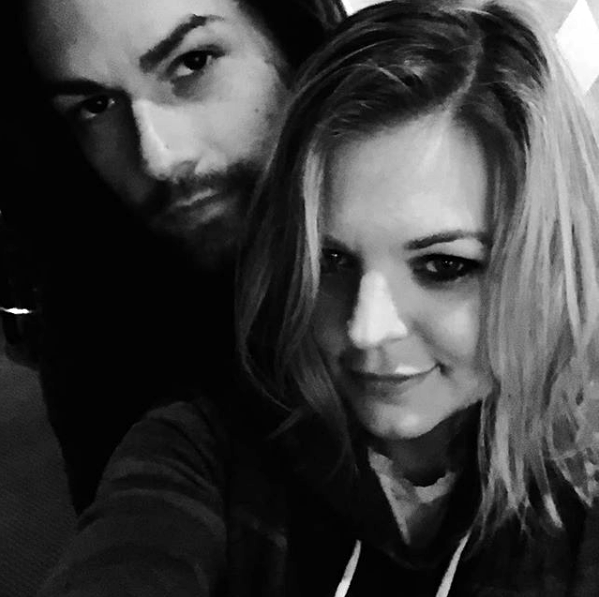 Weight Gain: What's her Current Weight?
Another reason why Kirsten Storms, even as we are writing this article, becomes the target of pregnancy rumors is her weight gain. Man of her fans may already know that Kirsten Storms has undoubtedly had a bit of a weight gain since her early years with General Hospital in the role of Maxie Jones. Firstly, we would like to clear the fact that her weight gain has nothing to do with pregnancy, and secondly, her weight should not be anyone else but her concern.
Still, one fan thought it was right to comment on her weight in one of her Instagram posts. A comment which has long since been deleted suggested that Kirsten posted an old photo since she looks slim in it, and as of now, she has gained quite a bit of weight. Kirsten was sure not to let the fan get away with her mean opinion.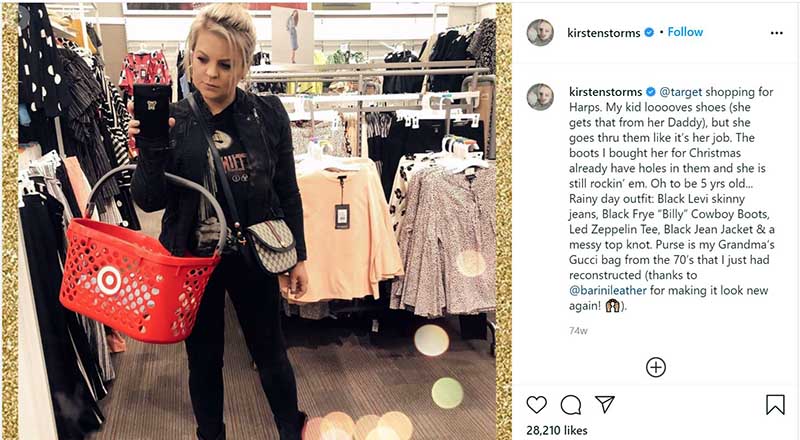 So, she let her fan know exactly what she thought as she wrote the reply;
"I've gained a lot of weight since this afternoon when I took this picture? Look, I know what she was saying with her comment. Details about my health and medical conditions are nobody's business, so I won't go into my temporary weight gain to satisfy anyone's thirst.

She continued, "However, I will say that it's sad to see some people focus only on the status of my body (and when focusing on weight it is never meant in a positive way. 'Losing' or 'gaining' — it's a judgement and it's shameful). I'm healthy and I feel good — at any size, which is what matters to me the most. Comments with a snarky undertone only make me feel sad for the person who typed it and I truly hope their life sucks less tomorrow."
Kirsten Storm's wiki pages suggest that her weight is 53 kg or 126 lbs. We do not know if that is her current or recent weight, so we in no way can give you the exact number of her weight gain.
Kirsten Storms Net Worth
We have already talked a lot about Kirsten Storms' arguably the most notable work in General Hospital. However, we also have to give importance to her role as Belle Black in 'Days of Our Lives' prior to GH, which shot her to fame in the soap opera world, if we are to calculate her net worth. Furthermore, she has appearances in many other TV shows as well, like '7th Heaven,' 'That's So Raven,' 'Clubhouse,' and 'CSI: Miami.'
Furthermore, Kirsten Storms is also the star of the Disney original movie trilogy 'Zenon: Girl of the 21st Century,' 'Zenon: The Zequel,' and 'Zenon: Z3' as Zenon Kar. Moreover, she was also the voice behind the character Bonnie Rockwaller in the cartoon series 'Kim Impossible' and well as its movies.
It is all of her achievements that place Kirsten Storms' net worth at $6 million as of 2015. Some experts in 2020 have stated her net worth has increased to an even more impressive amount of $8 million.
How old is Kirsten Storms?
Kirsten Storms is 37 years old, being born on April 8, 1984, in Orlando, Florida. She grew up all over the Greater area of Orlando, like Kissimme, Casselberry, and Sanford.
The 37-year-old was born to her mother, Karen Storms, a Kindergarten teacher, and her father, Mike Storms, a Sportscaster at a local CBS affiliate network. She has three siblings altogether; a brother Austin, a younger sister, Gretchen, and a step-brother Chris.
Kirsten Storms Wiki-Facts
Kirsten Storms was very particular about wanting to be a soap opera actress. She was acting in a lot of commercials and other small stints but told her agent that she wanted to act in soap operas.
She asked her parents to attend acting classes. A talent scout saw her at the age of 5 and encouraged her to join an intensive acting camp in New York.
Kirsten Storms has a height of 5 feet and 3 inches, which is 1.6 meters.
In 2007, Kirsten was arrested for DUI in California after highway patrol also saw her throwing a lit cigarette outside the window. She pleads guilty in court, paying a $1,643 fine and attending a 90-day program. Furthermore, his license was suspected for 6-months, and she had to stay on probation for three years.
The 37-year-old loves to knit, according to her social media posts.