Steve Burton is someone who all General Hospital fans love and adore. After all, he is one of the most prominent supporting actors on the show.
He shares a long history with General Hospital, but the soap opera is not the only thing he is famous for. Take a look at his brilliant career and find out Steve Burton's net worth.
While you're at it, learn about Burton's married life by meeting his wife and children. We have all the info you could need on his wiki and bio.
Steve Burton as a General Hospital Cast
General Hospital fans first came to know Steve as Jason Quartermaine all the way back in 1991. Although he has a long relationship with GH, it has been anything but concrete from the beginning to the end.
In November 1999, Burton was yet to renew his contract on the show and consequently to look at other prospects. He wouldn't sign a full-time contract until 2002, bringing an end to all the speculation linking him with different projects.
Steve would go another 6 years before extending his contract again in 2008. It'd be smooth sailing for another four years before all the constant rumors of his exit finally became a reality.
In August 2012, an announcement broke that Steve Burton would leave GH. It was a big shock to fans who had grown to love Burton. Remarkably, Steve would change his mind again and decide to stay on the show.
Steve Burton's Return to General Hospital
However, as we all know, it was not permanent. Steve Burton came back to GH in June 2017. He first came back as a different character, Patient 6, and then Jesse Nichols in 2018.
Furthermore, he'd also play Jason's twin brother, Andrew Cain, in a flashback storyline. Ultimately, Steve eventually reprised his role as Jason Morgan.
Caption: Steve Burton returns as Jason Morgan in General Hospital
Despite his 5 years' absence from the show and his uncertain career with GH, Jason Morgan has a total appearance in 2,085 episodes of the soap opera, second only to the main character Sonny Corinthos (Maurice Benard).
Who is Steve Burton's Wife, Sheree Gustin?
Steve Burton's career is undoubtedly a successful one, but he's married life has us more jealous of him. Burton and Sheree Gustin tied the knot on January 16, 1999. So they will be celebrating their 22nd marriage anniversary very soon.
His wife, Sheree Gustin, is nearly seven years younger than Burton, born on March 12, 1977. So as of 2021, she is 44 years old.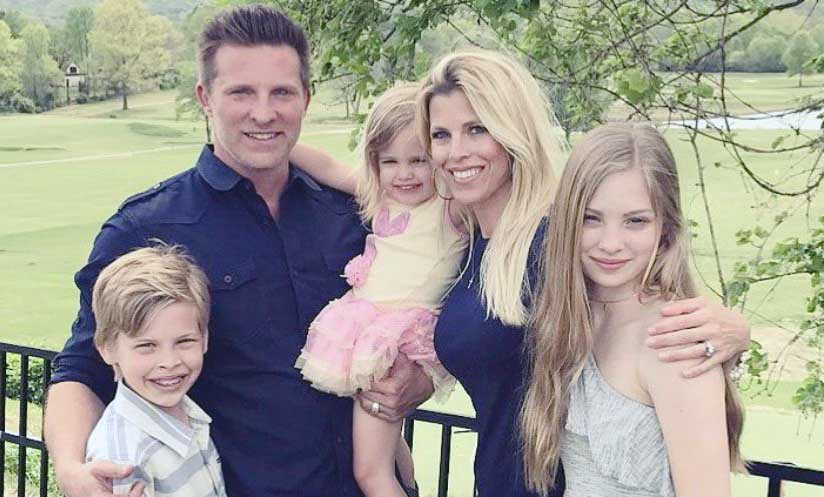 They have three children to show off as products of their union. Two of their kids are daughters, while one of them is a son. Their eldest is Makenna Grace Burton, born in 2003, followed by Jack Marshall Burton in 2006, and the youngest, Brooklyn Faith Burton, in 2014.
Steve Burton Net Worth
Burton collects most of his revenue from his work in General Hospital. However, he also has done many other projects. Stevo was also able to land the recurring role of Harris Micheals in 'Days of Our Lives in 1988.
Furthermore, he took on the role of Dylan McAvoy in 'The Young and The Restless' from 2013 until 2017. This totaled to about 500 episodes.
Other than that, Steve has also built his bank account on the back of multiple movie projects. He starred in the 1994 films 'Red Sun Rising' and 'Cybertracker'. Moreover, he was an English voice actor in the anime film Final Fantasy VII.
Likewise, he'd reprise his voice-over character in several other installments of the franchise. Lastly, Burton is also the voice behind another popular game franchise, 'Kingdom Hearts.' As of 2021, Steve Burton's net worth is approximately $3 million.
How Old is Steve Burton? What's His Age & Birthday
Steve Burton was born on June 28th, 1970, which makes him 51-years old currently. He was raised in Indianapolis, Indiana, by Jack and Tory Burton.
His mother was an optician and is currently divorced from his father. Sources say that Steve grew up in Cleveland's Richmond Heights.
Transporting this beauty around. Have a great day! #together #stillgrateful pic.twitter.com/FArEetsKjs

— Steve Burton (@1SteveBurton) March 27, 2020
Steve Burton's Facts
Steve Burton may be from Indiana and grew up in Ohio, but he moved to California, where he went to Beverly Hills High School in Beverly Hills. Many of his biography pages suggest that Burton completed his education in California.
 He was part of his high school's theatre group and, after graduating, went on to become part of The Theatre theatre.
There, Burton would meet the two significant inspirations and teachers; senior soap opera actors Chris Able and Jon Cedar, who would give him essential training and advice.
Burton initially had to contend with minimal roles in horror TV movies like 'I Want to Live' and 'Hear no Evil' in 1982.
Furthermore, Steve was also briefly on the TV show 'Manimal,' featuring as a reporter. He became a household name after working on 'Out of This World'.