Securing a position in the entertainment industry might look simple for somebody who doesn't understand what commitment and blood-sweat-and-tears are specifically. Cynthia Watros is among those TVpersonalities who achieved a breakthrough with her passion and love for acting. 
Cynthia Watros is an American actress who first gained recognition in the TV mystery series Lost as Libby Smith, not to mention in the daytime soap opera General Hospital as Nina Reeves. 
She is among the well-loved and award-winning actresses with many films and TV shows under her name in this day and age. And on this page, we'll help you know something about her life – her age, family, and her net worth.
Cynthia Watros as Nina Reeves in General Hospital
Nina Addison Reeves is a character Cynthis Watros portrays on the TV series General Hospital. She is the daughter of Madelines Reeves and the late Mr Reeves. She is also the chief editor of the famous fashion magazine, Crimson and a successor. A strong woman, Nina has come a long way to be where she is at the moment.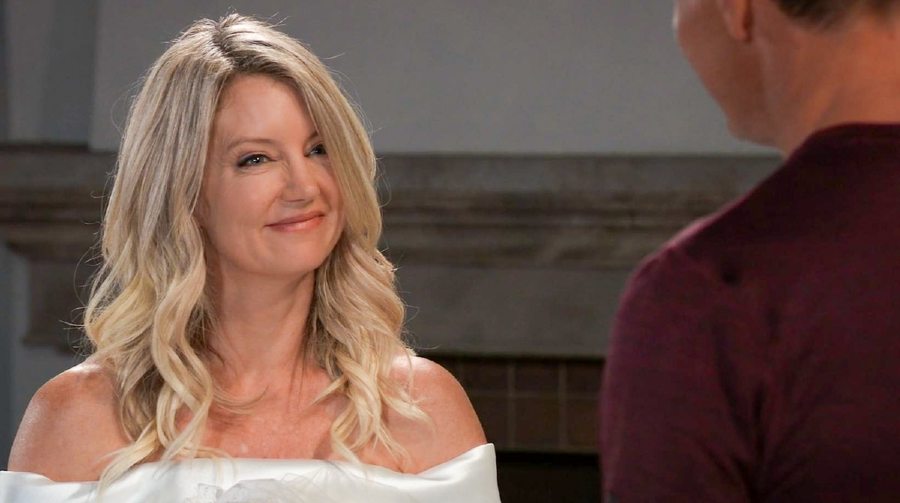 Nina was initially introduced to the soap in May 2014, with Michelle Stafford portraying the character. But in March 2019, the production revealed that Michelle decided to exit from the series as she was returning for the role in The Young and the Restless as Phyllis Summer. 
Then in April 2019, it was disclosed that the character Nina was taken over by Cynthia Watros and had her premiere appearance in June 2019.
Cynthia's Age and Birthday
Cynthia Watros was born on the 2nd of September 1968 to Nancy Watros, a secretary, and Bruce Watros, an electrical engineer. The actress grew up in Lake Orion, Michigan, and is now 53 years old. She has a mixed ethnicity of Italian (from her maternal grandfather), Polish (from her paternal grandmother), Welsh, and English.
Family and Husband
Cynthia Watros's husband is Curtis Gilliland. They've been dating for a year, then finally decided to get married in 1996. Curtis Gilliland is a writer. The two ran into each other at a restaurant where Cynthia was working. 
During their 25 years of being married, they are blessed with a beautiful twin, Sadie Anna Marie and Emma Rose Marie Gilliland. Cynthia gave birth to them on July 14, 2001.
Wikipedia and Biography
The actress attended Macomb Community College in Clinton Township, Michigan. And took an academic degree in Boston University, Bachelor of Fine Arts degree in Theatre. 
In 1994, when she was 26, Cynthia earned her first acting career in the drama series New York Undercover as a reporter. Then from 1994 to 1998, she portrayed the character of Annie Dutton on the soap opera Guiding Light. She was highly acclaimed by both columnists and supporters for her portrayal, making her deserving of the 25th Daytime Emmy Award for Outstanding Lead Actress in a Drama Series category award. In that given year, Cynthia departed the series. She temporarily took the role of Victoria Hudson McKinnon in the soap opera Another World while Jensen Buchanan was resting after giving birth. 
Watros also landed the role of Erin Fitzpatrick from 2000-2002 at the American comedy sitcom Titus. However, she was carrying her twins when filming her scenes in the series and needed to cover her baby bump by wearing dark clothes or sometimes standing at the back of any props. She was also notable for her role on the series Lost as Elizabeth Smith from 2005-2006. And at the 12th Annual Series Actors Award, she won the Outstanding Performance by an Ensemble in a Drama Series category. 
Her career skyrocketed after that, and she had several guest-starred appearances in many TV shows, such as Raines as Sarah Carver, In Plain Sight as Maureen Sullivan, Gossip Girl as Young Celia Rhodes, CSI as Barbie Aubrey, Criminal Minds as Heather Vanderwaal, House as Sam Carr, Grey's Anatomy as Mrs Conor, and Hawaii Five-0 as Katie Burgess. 
In films, she is known for her roles in His and Hers as Pam, The Yellow Bird as Alma Tutwiler, Just Pray as Perry Ann Lewis, Avenging Girls as Magie, American Crude as Jane, Mars as Allison Guthrie, Retribution as Karen, Electrick Children as Gay Lynn, Park City as Nina, and Special Unit as Tara Small. 
Since Cynthia concentrated on appearing for many TV series, her fans were delighted that the actress opted to return to doing soap operas with the character of Kelly Andrews in The Young and the Restless from 2013-2014. Then she got busy again acting in motion pictures, like Stolen from the Suburbs, Washed Away, and Deadly Exchange. 
In 2019, she again harked back in having a role in daytime soap as Nina Reeves in General Hospital. As soon as the Soap Opera Digest announced that Michelle Stafford would be leaving the character of Nina, Cynthia stepped in to play the character. She also joined the drama series Misguided as Anne (a tribute to the character she once played in the Guiding Light series), but only as a guest role for two episodes. And she earned a nomination at the 11th Indie Series Award for Best Guest Actress in a Drama for her role.
Net Worth and Income
Cynthia Watros has accumulated massive wealth through her work in numerous films and TV series. Before 2021 ends, the actress has an estimated $1.5 million net worth. With more than two decades in the entertainment industry, no doubt that Cynthia earned such huge earnings.