Haley Pullos is an American actress who became widely known for her role in the longest-running daytime soap opera General Hospital as Molly Lansing-Davis. At the age of 11, in 2009, she was cast to join and be officially featured in the series. Fans of the soap have witnessed and admired how Haley has matured alongside her character, and her episodes have been outright marvelous and entertaining. And Haley also mentioned that she's having a good time in every scene and take, as well. 
You might wonder how the young actress was able to experience such success at such an early age; continue reading to know some facts about Haley Pullos regarding her age, husband, and net worth.
Wiki-Biography and Age
Haley Alexis Pullos, an American girl, was born on July 10, 1998, in Palo Alto, California, United States. Her parents are Alexander Dean Pullos (father) and Judith K. Morrisey (mother) and are both working in a real estate firm as an agent. Halley is the youngest in their family of seven, with two sisters and two brothers. However, her siblings' names are unrevealed to the public.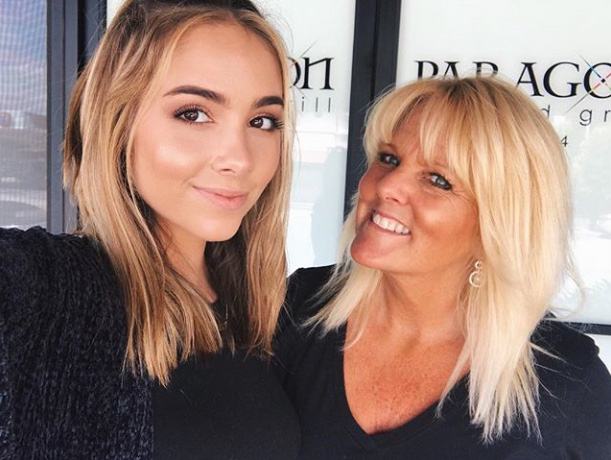 Aside from their native English language, she can also speak German, Spanish, and French. Haley stands at 5'2" and weighs 110 pounds. Not to mention, this beautiful lad possesses a perfectly toned figure, with a body measurement of 32-23-33. 
Haley always goes to the gym and does some vigorous exercises to retain her slim physique whenever she's not busy with her schedule. She always watches what she eats for good measure, and the actress opts to have good and well-balanced meals in her diet.
Early Life
Ever since she was young, she's been engrossed in acting and – we all know that mother knows best -her mother eventually saw her passion and talent. They started going and joining many auditions. And at the age of 4, Haley got her debut role in the 2002 film Carney Tales as a young girl named Patron. 
She remained to be engaged in the movie industry throughout her whole schooling. After her acting debut, she began engaging in plays at her school before her family relocated to L.A. to push towards her showbiz career. Haley indeed had a very fruitful life growing up – balancing life in school and being a young actress. She went to a local high school in Los Angeles, and after graduating in 2016, she decided to concentrate more on her acting.
Professional Career and Her role as Molly Lansing-Davis in GH
After her first movie role, it took her first years to have another project. In 2007, she landed her debut TV role acting as a cameo in the TV series Til Death as a student and Moonlight as Mara. In 2008, she was again cast to portray the role of young Melinda in the TV series Ghost Whisperer. 
Haley was also featured in some movies, including Dinah in Alien Raiders (2008), Dee Dee in Dead Air (2009), Cindy in The Collector (2009), and Teresa in Montana Amazon (2012). Apart from General Hospital, she likewise had a recurring role in the series Mr. Student Body President (2016-18) as Addison Pierce and The Expanding Universe of Ashley Garcia (2020) as Bella Schmerz. 
She rose to fame following her appearance in the daytime series General Hospital as Molly Davis. Haley has been on the show for more than a decade and definitively nailed her character. She won four (4) awards from General Hospital alone at the Young Artist Award for Best Performance in a TV Series (2010-2012 & 2014). In 2015, she was nominated at the Daytime Emmy Award for the category "Best Actress in a Dramatic Series," again for her character at the GH series. 
Apart from General Hospital, Haley also bagged an award as the Best Performance in a TV Series – Guest Starring in the 2012 Young Artist Award for her appearance in the drama series House as Coleen. 
Besides acting, Haley also found success in the modeling industry and has been the face of various major brands. At the same time, she has also worked on different TV commercial campaigns for Staples, Geico, Burger King, Smart & Final, Walmart, and a lot more. 
This 23-year-old actress has already attained a particular spot in the Holywood. And we can imagine how great an actress she can be anytime soon as she continues to grow and improve as a person.
Relationship and Boyfriend
In 2003, Haley had been rumored to be in a relationship with Jimmy Deshler. Jimmy also appeared on the General Hospital soap as Rafe Kovich Jr. Though neither of the two admitted to the rumors, fans of the show could witness their closeness as both shared some sweet pictures. For this, their tandem was adored by many. However, Jimmy made his last appearance as his character died in the series in 2014.
After Jimmy exited the show, there was no news or speculation regarding him and Haley. 
Currently, Haley Pullos is not in a relationship or being linked to some guy. The actress prefers to keep her love life out of public attention and focus on her career instead.
Net worth and Salary
Haley Pullos might have accumulated a generous amount of wealth from her profession as an actress, though the exact figure of her wage is under wraps. But considering how passionate and dedicated she is, we can expect that her net worth is above or equal to $1million. 
And please do note that Haley is still young and has a promising future. Second, she is an overachiever and tends to become an affluent personage in the entertainment industry. Hence, for sure, her salary will increase for the years ahead, leading to an increase in her net worth as well.
Social Media Presence
With thousands of followers in her different social media accounts, Haley always communicates with her fans and keeps them abreast of some activities of the actress. She has a total of 73.6K followers on Instagram and 50K on her Twitter account.