For many people who earn a living in show business, life as they know it comes with various twists and turns. The same goes for Briana Henry, a famous American actress. She, too, experienced the typical life plot stories that challenged her capacity on how far she could go in life.
Apart from her fame and monetary achievements, she gained more than what money could give – people who love her within and outside her entertainment life. If you are one of the fans of this famed American actress, you surely want to know more about who she is. To give you some glimpse of her life, keep reading.
General Hospital cast Briana Henry as Jordan Ashford: Wikipedia.
The American television actress Briana Nicole Henry grew her fame as she became one of the casts in the ABC daytime soap opera General Hospital. She portrayed the role of Jordan Ashford.
In the show, Jordan was not only a typical woman who suddenly appeared in every scene. But she holds an important role as Jordan was the mother of T.J. Ashford and the widow of the late Tommy Ashford Sr. Her life in the show as Jordan Ashford comes with various complexities, leading her to make a pretty difficult decision. There are still a lot of twists in all scenes that can genuinely break one's heart. So, if you plan to watch, make sure you bring with you your handkerchief.
But did you know the fictional character of Henry was actually originate from another artist? The role was notably portrayed by famed actress Vinessa Antoine. However, after four years of service with the show, on July 16, 2021, Antoine announced that she would leave the program after becoming a lead star of the upcoming Canadian drama Diggstown. Of course, her fans were shocked by her sudden decision, but at the same time, they were still happy, knowing that they could still see the actress in another show.
Despite the sudden announcement made by Antoine, the GH team still has someone who could be as suitable as the former – Briana Nicole Henry. On August 10, 2018, it was announced in the media that Henry would be the replacement for Antoine's role as Jordan Ashford. Finally, she made her first appearance on GH last September 13, 2018. Without a doubt, the tv star made impressive starts, and until the following years, she started gaining more supporters than she used to have before.
 True enough, Henry's impressive acting made her earn a lot of acknowledgments and appreciation from different people worldwide. On the talk of her fandom, she admitted that it was hard enough to get her fan's heart at first. Of course, getting people's hearts, one requires going through the eye of the needle to assess if you truly are worthy of one's support.
Age
 Briana Henry was born on May 08, 1985. As of 2021, she is already blissfully enjoying her 36th year of existence.
Married to husband? Or dating a boyfriend?
 In her years of being a successful American actress, Briana Henry's journey became even more whirlwind in 2017 when she met Kristopher Bowers, a composer and pianist. Their romantic affair began when Briana and her future husband saw each other's faces during the set of The Young and the Restless. After a few months of working together, the TV stars started seeing each other as more than just co-workers. One can say that their love story is like what happened in the movies, which has a twisted plot but still ends up with a happy ending. Indeed, destiny works in mysterious ways.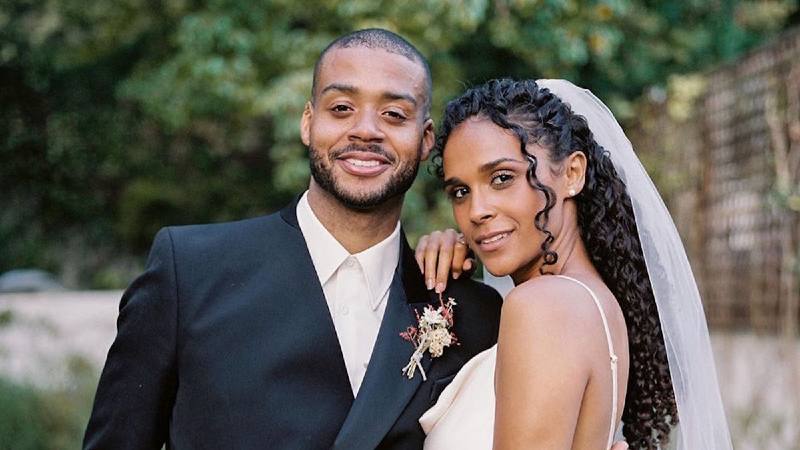 Is Briana Nicole leaving General Hospital?
 After three years of being Jordan Ashford in General Hospital, the actress boldly revealed her decision to say goodbye to the popular daytime soap. Of course, like any other goodbyes, this too created a heartbreaking moment for her fans and co-workers. Henry further added that she has to move on from the show, but it also breaks her heart knowing that she will no longer be handling the fictional character of Jordan. Undeniably, it tears her heart apart. On top of this, she had to say goodbye to the people who became her family in the show. Needless to say, it also includes all her fans.
In one of her Instagram posts, the TV actress shared her farewell message. She emphasizes that she needs to step away, but it's not because she got any new projects. Also, Henry thanked all those who worked with her in the GH family. She further extended her gratitude to all the cast members for challenging her ability in acting and helping her achieve the best version of herself.
The star actress's post on social media garnered different reactions. Some gave their speculation about her reasons for leaving, but others just extended their utmost understanding and respect for her decision, whatever it might be.
But at the end of the rope, Henry still concluded that the support she got from her fans was more than enough to strengthen her on whatever she planned to do next. Despite leaving, Briana's gratitude will always and forever stay in the entertainment industry, especially in the GH team. 
Parents and Siblings
Further information about Henry's family is not yet an open book for the public's view. However, some legit sources claimed that she was well-raised and supported by her beloved mother in their hometown in London, United States.
One can infer that she was one of the population who were blessed to have a happy family. Indeed, the success she made in show business will not be achievable without the unwavering support of her loved ones.