Sonya Eddy is an American actress, famous for her character as Epiphany Johnson in the TV soap opera General Hospital. Eddy started playing the role of head nurse Epiphany in 2006 during its 11,000th episode. 
Fans of General Hospital recognized Epiphany Johnson as a strong and confident head nurse of the series. While only a guest star, viewers love her character – her commitment to her profession and serious demeanor. For this, several fans spoke up and expressed their wants to have Epiphany appear more in the soap as she has only been seen during the yearly Nurses Ball. 
Well, Sonya Eddy did an excellent job in her role. Therefore, on this page, we'll try to get a little more about her personal life.
Sonya Eddy Wiki and Biography
Sonya Eddy was born on the 17th of June 1967 in Concord, California. At an early age, the 54-year-old actress already knew that path she wanted to track. She got so fascinated by the thrill of performing that she enrolled at UC Davis and took a Bachelor of Arts in Theater and Dance. 
Amidst her intensive study, she got a role from the film "Zora, Is My Name!" This was her debut in the acting industry, and she got to portray several roles from the said film. Then several projects were offered, asking her to perform a character like a Witch in Stephen Sondheim's Into the Woods and Courtesan in Comedy of Errors. She also got the role in Rodgers and Hammerstein's South Pacific, where she played Bloody Mary. And because of her great reenactment as Bloody Mary, Sonya won an Arty Award.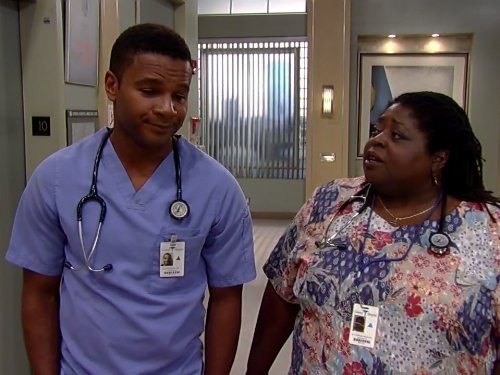 Sonya Eddy moved from California to Los Angeles to continue her passion for acting. Since then, her profession skyrocketed with numerous TV series cameo appearances, such as The Drew Carey Show (1995), Murphy Brown (1997), Seinfeld (1997-1998), Popular (1999), Lizzie McGuire (2001), Primetime Glick ( 2001-2002), Less than Perfect (2005), ER (2001-2006), General Hospital (2006-2021) and so forth. Sonya became the sole actress ever to be given a role on ER twice. Her first character was a Student Affair Secretary in 1 episode in 2001, then reappeared in the series as Harriet for two episodes in 2006. 
She has also gotten a role in some movies, including High School High (nurse), Inspector Gadget (hospital secretary), Nutty Professor II (heavyset woman), Daddy Day Care (waitress), and Good on Paper (Judge Harriet Gold), to name a few. 
Sonya Eddy is a very talented woman. Not only is she good at acting and performing, but she is also good at sketching, improvising, and being a voice actor. Her voice-over artist projects are two popular video games, Saints Row 2 and Guild Wars 2.
Husband and Kids
There is no information regarding the love life of Sonya Eddy – no rumors either. She might be single at the moment. Sonya had been keeping her celebrity status in check.
Net Worth
The General Hospital actress' net worth has been increasing hugely, and as of 2021, her estimated net worth is a massive $5 to $10 million. 
Sonya Eddy's primary source of income is from her profession as an actress. Though, she's also been accumulating huge profits from her Yeezy sneakers business for many years.