Indigo Rademacher is one of the main baddies on General Hospital. A protagonist of any story, be it a comic book, movie, or soap opera, is only as good as the antagonist he squares against.
In General Hospital, Sonny Corinthos (Maurice Benard) definitely has many enemies, but the one rivalry that seems to be neverending is his beef with Indigo's character.
Examine the biography of Ingo Rademacher, the man behind the famous role. Also, meet his wife and children.
Ingo Rademacher in General Hospital
Ingo Rademacher is defined by his portrayal of Jasper Jacks in General Hospital. Rademacher was first cast as Jacks in 1996. Barring a few brief breaks, he has held on to the role ever since.
https://www.instagram.com/p/B9hSVCqnTY8/
His character walked away from the storyline in 2013 before reemerging in 2016. Ingo would leave once again in 2017, taking a full year off before popping back on screen in 2019.
Fans don't mind as long as he comes back, but his considerable time off means that Ingo only has a total of 1600 episodes under his belt. This is despite being one of the oldest supporting actors on the show.
Jasper Jacks is a suave business tycoon with a Mr. steal-your-girl personality, whether it be for pleasure or business. He also keeps falling for women who are already in relationships.
First, he was part of a love triangle with Brenda Barrett (Vanessa Marcil) before swiftly moving to Carly Corinthos (Tamara Brown at that time). Remarkably, Ingo's character also dated and married Sonny's sister, Courtney Matthews (Alici Leigh Willis).
The bad blood between the two always makes for a good love-hate storyline on the show. Rademacher surely earns a very handsome salary from his role in General Hospital, which explains his enormous wealth.
Ingo Rademacher's Net Worth & Career
Rademacher began acting in the Australian TV series 'Paradise Beach' which ran from 1993 to 1994. He'd also audition for another soap opera, 'The City' but failed to land a role.
However, the executive producer of General Hospital, Wendy Richie, saw the audition tape and asked him to take the role of Jax.
Furthermore, Rademacher was also cast as Thorne Forrester' from 2017 to 2019. Moreover, he is famous for appearing in multiple episodes of 'Hawaii Five-0.' As of 2021, Ingo Rademacher's net worth is approximately $3 million.
https://www.instagram.com/p/CDEUzbvF5z3/
Ingo Rademacher's First Son with Girlfriend
Ingo Rademacher couldn't be happier in his love life as we speak. After dating co-star, Rebecca Herbst, he began a relationship with his future wife, Ehiku.
The two were still just casual when she gave birth to their first child in July 2008. They nicknamed their son Peanut, and the name stuck.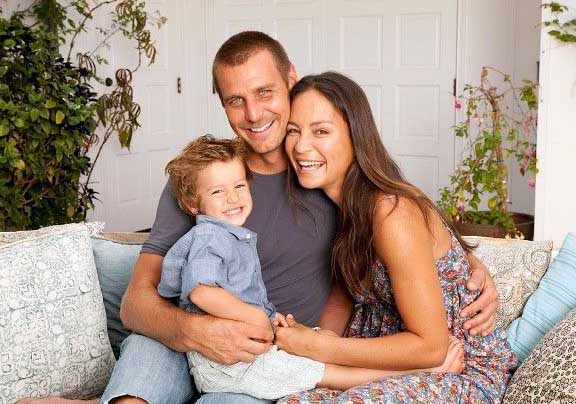 Ingo Rademacher said that "It kind of represented joy and happiness to us. It puts a smile on everyone's face."
Their son's full name is Peanut Kai Rademacher. 'Kai' is a popular Hawaiin name and an even more common middle name. In summary, it means water.
Ingo's wife, Ehiku, is a native of Hawaii. Moreover, she also gave birth at home with the help of a midwife as they did not want to have their baby in a hospital.
His Married Life & Second Son with Wife
Shortly after having their first child, the couple tied the knot, in 2009. People say, "good things come in threes," and for Ingo Rademacher and his wife, it couldn't be truer. In 2012, Ehiku gave birth to their second son, Pohaku, on Mother's Day of all days!
As you can tell, Pohaku is also a Hawaiian name. However, instead of having a cool meaning like 'Kai,' it means peanut in the Hawaiian language. As adorable as their sons' names sound right now, they will probably give their parents a hard time once they grow up.
How Old is Ingo Rademacher? His Bio
Ingo Rademacher was born on April 22, 1971, in Iserlohn, West Germany, which means he is 50 years old as of 2021. Though he was born in West Germany, his parents, Arndt Rademacher and Roswitha Rademacher are originally from Australia.
Moreover, Ingo also spent some time at the University of Queensland in Brisbane, before quitting to become a model within 6 months. He'd gradually transition into acting with his first role as Sean Hayden in the Australian soap opera 'Paradise Beach.'
He became good friends with his co-star, Jaason Simmons, through the soap who went on to star in 'Baywatch.'
Ingo Rademacher's Wiki-Facts
Ingo Rademacher is a ski champion who began skiing at the young age of 8 years old.
Rademacher also has exceptional equestrian skills, excelling in jumping and dressage even before he and his family left West Germany.
He was also in an uncredited role as Mike Newman in Baywatch in 1996.
Ingo Rademacher went through a spat with GH co-star Nancy Lee Grahn last year after a series of social media exchanges. He sided with former POTUS, Donald Trump after he called the covid virus a 'Chinese virus.' Moreover, Rademacher went on to say that he was balancing Nancy's (who is an outspoken liberal) POV. He was probably joking, but Nancy did not take it lightly, and after a brief online exchange, blocked him on Twitter.
Rademacher also co-owns an activewear clothing store, Mahiku, along with his wife, Ehiku.
https://www.instagram.com/p/B9AtGA8HMAQ/